Dallas Real Bearded Santa Claus For Hire
There are several good Santa Claus entertainers in Dallas, but only one Santa Allen.  When you have to have the most realistic, most authentic Santa Claus that will convince the most skeptical child that Santa Claus is Real then you must have Santa Claus Allen.  He is the most in demand Santa Claus in Dallas and will Bring the Season to Life in magical ways. His real Santa Claus Suit is beautiful and his hand made boots and leather belt will have wondering if the elves at the North Pole made them with Christmas Magic.


"Santa Allen was wonderful!  The children really loved him and he was very professional.  We were very pleased!!" – Shady Oaks Country Club
"You are a fabulous Santa and quite frankly the ONLY reason I have clients who come to the Santa event!" – Dallas Area Photographer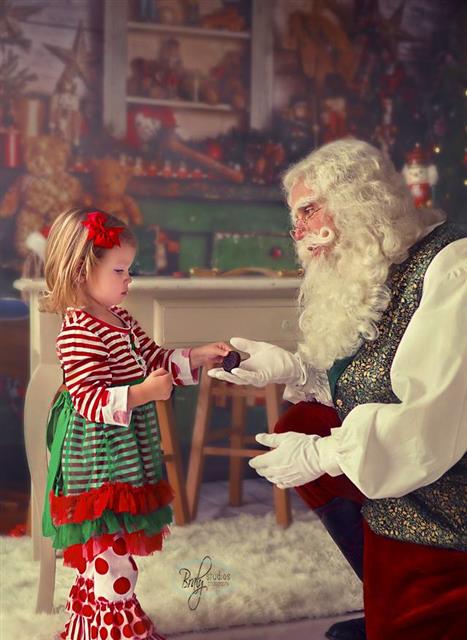 This is one of the very best Santa Claus pictures! It was taken at Braly Studios and shows the gentile nature of Santa Claus Allen as well as how fantastic his appearance is. This Real bearded Dallas Santa Claus will amaze you with how he is able to get great pictures and talk with children young and old.
"Santa Allen brings the spirit of the season to life in the most genuine, authentic, and magical way possible! The children adore visiting both Santa and Mrs. Claus each year, leaving everyone filled with holiday joy and thrilled to come back the following Christmas!" – Highland Park Village


"He is wonderful and his suit is absolutely beautiful and his real beard is magical, just like in a movie!" – Dallas Community Event
Call 817-601-5666 or email Santa@SantaAllen.com to check his availability for this Christmas Season.


"He is great to work with and truly wants to make each and every visit magical.  There is no better Santa Claus in Dallas, maybe the country.  But book him early, he is AWESOME!!" – City of Dallas Community Event
Call 817-601-5666 or email Santa@SantaAllen.com to check his availability for this Christmas Season.


"This was the second year in a row that we selected Santa Allen for our Holiday Employee Event. Why?  Because he strives to not only be an engaged Santa while at our event but also acts as an event consultant prior to event.  His authentic beard and amazing Suits are top of the line. We again went with his recommendations to add mascots and face painters to make it a more magical event for our employees.  It was a great event for employees and their families!  Thanks Santa Allen!" – Dallas Morning News Holiday Party
To see a full list of the Real Bearded Santa Claus Entertainers that we have in the Dallas, Fort Worth area, visit our parent organization, www.MystiAllen.com or click Real Beard Santa.


Hire Dallas Real Bearded Santa Claus for Parties
If you want the premier Santa Claus in Dallas, TX, look no further than Santa Allen. Whether you are hosting a Christmas event, company holiday party, community get-together, or a home visit for the kids, Santa Allen brings the magic of the holiday season to life. Sure, anyone could dress up like Santa Claus. But a real bearded Santa Claus, with vast experience, ensures a holiday experience unlike any other. If you want your children, employees, or family to remember the holiday season, then only consider the real thing!
Santa Allen is an award-winning Santa Claus in Texas. Since day one, his focus has been on helping families come together for a magical holiday season. His experience includes all types parties, events, commercials, and advertisements for the season. So, if you want authenticity and fun in one package, consider Santa Allen as your top choice for Santa Claus in Dallas, TX!
If you are looking to book a Mariachi Band we can help too!
Local Real Bearded Santa Claus
A local Santa Claus is key to ensuring a one of a kind experience for everyone involved in the party or event. Whether you have a school full of children who want to sit on Santa's lap, pose for pictures, or shoot a commercial for your grand opening, a local real bearded Santa Claus can elevate the experience. No matter your need for a Santa, we can meet the demand. Of course, you'll want to book early. We're filling up for the holiday season, so do not hesitate to schedule with Santa Allen!
Santa Claus has long been a larger than life hero to children and adults across the world. Now, you have an opportunity to bring a realistic, real bearded Santa Claus to life for those you love the most. Instead of hiring an amateur who may ruin the overall experience, consider the best of the best. Santa Allen has decades of experience as Santa Claus–he has the beard and belly to match, and brings magic to the holiday!
Call
817-601-5666
or email 
Santa@SantaAllen.com
 to check his availability for this Christmas Season.  There is no better Real bearded Santa Claus entertainer in Dallas!