Santa Claus Visit
Have Santa Claus Allen visit your home or office! He has experience in front of groups large and small; young and old. Everyone enjoys the Real Santa Claus and there is no better way to hand out gifts during a Christmas party than to have the jolly elf do it. This also creates great Santa Claus photo opportunities and will help bring your team together.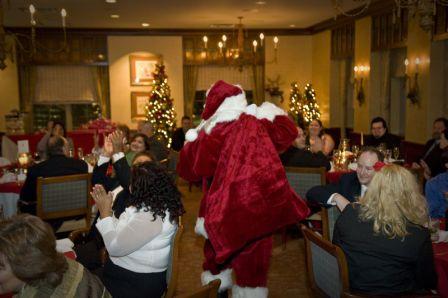 Santa Claus Visiting Company at Fort Worth Club
Here you can see Santa Claus making a grand entrance at a Fort Worth Christmas party right off of Sundance Square. Santa posed for pictures, handed out gifts and led the group in a few fun skits.
Contact Santa Claus Allen today to book one of the best Santa Claus in the area for your company or community event.
Santa Claus Home Visits
Santa Claus Allen can come to your home and take Santa Claus pictures, read T'was Night Before Christmas to your children, and help create Christmas traditions. Santa Allen looks like the traditional Santa Claus that you remember. Contact Santa today! If you want Santa Claus to do something unique, different or not listed here, please just ask. Santa Claus will work with you to make your event special.
Types of Santa Home Visits:
Santa Claus Visit – Santa Claus Allen will come to your home, put gifts you have left out into his bag and make a big entrance. Typical visits include pictures with Santa (everyone, not just the children), listening to what the children want for Christmas, reading of a Christmas story, Santa telling a story of when he was caught delivering presents one night many years ago ("T'was the Night before Christmas"). Then Santa will hand out presents, sit for pictures and wish everyone a very Merry Christmas before he departs back to the North Pole.


Santa Birthday Visit – Santa Claus Allen can help make your child's birthday extra special by wishing him/her a happy birthday in person. Santa Claus Allen will make a grand entrance, great all of the guests, deliver a special birthday present, then lead everyone in singing Happy Birthday. Of course there will be plenty of pictures too.
Catch Santa Delivering Presents (VERY limited availability) – Do you want to make a child belive again? Or create a memory that will last a lifetime? Have Santa Claus Allen visit your home late Christmas Eve or early Christmas Morning (from 11pm to 5am). Santa will fill stockings and pull out presents from his magical toy sack while you and the kids watch from a 'hidden' location. After Santa Claus Allen finishing you can either sneak them back to bed or be discovered by Santa and enjoy a few cookies with the Real Santa Claus. Of course take pictures too. Many people like to video this visit. Santa Claus Allen only has a few slots available for this type of visit and limits visits to 10-15 minutes at each home. Email Santa Claus Allen to check on availability.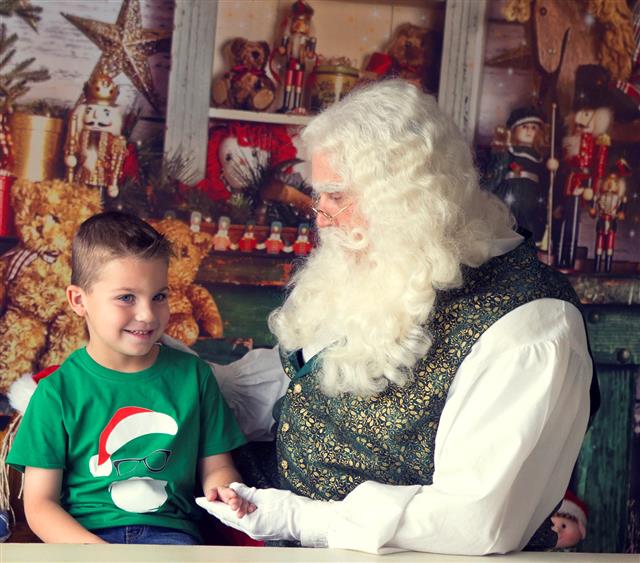 Call 817-601-5666 or email Santa@SantaAllen.com to schedule a visit or appearance.
Ultimate Santa Claus Visit (limited availability) – If you want a truly one of a kind Santa Claus visit with a 'Hollywood Caliber' Santa Claus, then this package is for you.  Santa Allen will consult with you about your children's names, what they are currently interested in, and about Christmas gifts from the past.  A professional photographer will come to your home and set up.  Then Santa Allen and Mrs. Claus will make a big entrance and greet your children by name.  They will be mesmerized by his authenticity and personality as he tells stories about the life at the North Pole.  Santa Claus will perform his unique first person version of "T'was the Night Before Christmas" and Mrs. Claus will have everyone singing Christmas songs.  While all of this is going on, our professional photographer will be capturing photos.  Santa Claus will then listen to the hopes and dreams of each child and hand out gifts that you have provided to each child. Santa will also give to each child a solid brass 'Believers Bell' and tell a story about it. High quality photographs of your children with Santa and Mrs. Claus will be taken, including several specific poses guaranteed to be treasured by you for years to come.  Family pictures are also included.  These pictures will be edited and delivered to you electronically so that you can do anything you wish with time. But if you would like we can also, print them in any way you wish.


Here are a couple of precious pictures from recent Ultimate Santa Claus visits.  Great pictures and memories for children and parents too!
We are only able to offer a select number of "Ultimate Santa Claus visits" each year and scheduling is limited.  They generally last about an hour, depending on the number and age of children.  This is the best Santa Claus experience available in DFW.
"I was looking for something special this Christmas.  A friend suggested I talk with Santa Allen. He explained the Ultimate Santa Visit and how it included everything. I was hooked!  The photographer arrived and set up lights took some test photos. Then Santa came in, I was so caught up in how real Santa was, and Mrs. Claus too.  They truly look like they are from TV or a Movie.  They entertained our children and Santa performed The Night Before Christmas like I have never heard before, I was in tears watching my children.  The pictures turned out fantastic too.  Santa Allen is the Best!  He is so professional and realistic.  The Ultimate Santa Claus visit is exactly that!!" – University Park Family
If you are looking for something not mentioned here, please don't hesitate to ask.
Also see:
Dallas Santa Claus Home Visit
Fort Worth Santa Visit
Texas Santa Claus Appearances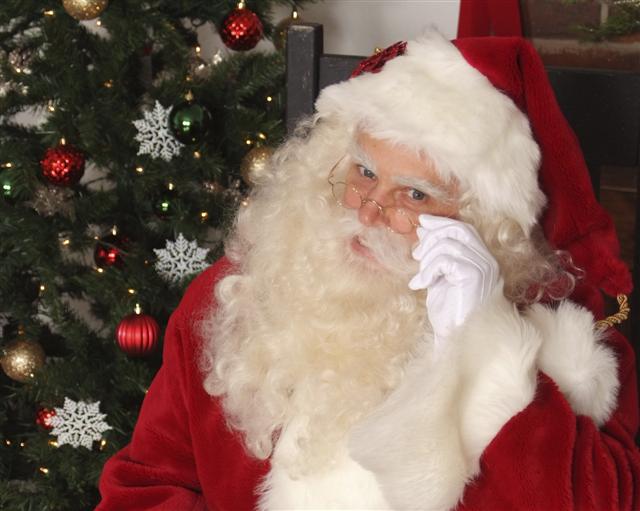 Professional Santa Claus visit. Hire Real Santa Claus Allen for your  Christmas party.
Home visits, company Christmas parties, community Holiday parades, Tree Lighting ceremonies, Breakfast with Santa, pancakes with Santa Claus, Story-time with Santa, Santa Allen has experience at all of them and will make them unforgettable.  Santa Allen is DFW's most authentic Santa Claus actor.  If you are looking for a real beard, real boots, real belt and real Santa personality, then contact Santa Allen, santa@santaallen.com