Gifts From Santa Claus
Santa Claus delivers gifts all over the world if you would like to have a hand made gift from Santa Claus Allen please select from below.


This Bell is made of solid brass and is very loud for its size. It is hand tied by Santa Claus Allen himself with a golden cord. It is made with 'extra love' for all those that believe. The brass Believer's Bell is perfect for hanging on the Christmas Tree and reminding young and old alike that Christmas is about believing and faith. This is a great stocking stuffer or can be placed by the fireplace for your children to find. Also, makes a unique addition to any wrapped gift as an alternative to a bow. These have become so popular that Santa Claus Allen is now shipping all over the world.
Each bell is $9.99 plus $2.50 shipping and handling. To order please click the Buy Now Below. After completion you will be taken back to Santa Allen's homepage.
Custom Santa Claus Puzzles
These custom Santa Claus Puzzles will be treasured for years to come. Each Puzzle is of Santa Allen and has 250 pieces and comes in its own box. One puzzle is of painting of Santa Claus creating the Nice List and making sure that your child is on it. The other is a picture of Santa Claus's face, where you can see the love and joy of Christmas. It is a more difficult puzzle but suitable for children. Each puzzle is $49.95, or you can have both for only $75.95, free shipping and handling!


Hand Written Letter from Santa Claus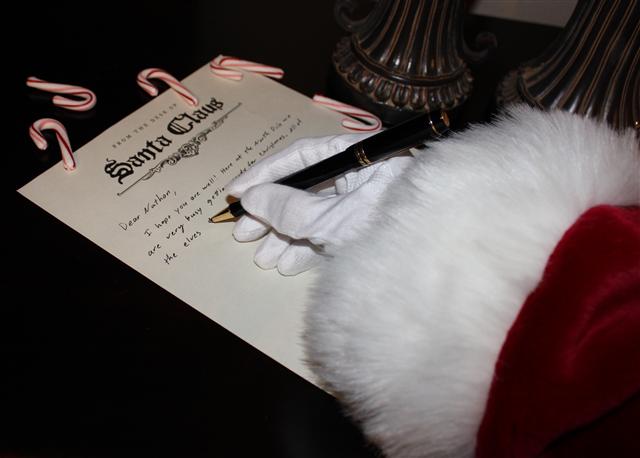 These letters are personally written by Santa Claus Allen and every Letter is different. The letter from Santa is a hand written letter that wishes the child a very merry holiday season full of love and joy. It will include details that you provide, then finishes by hoping each child has a Christmas where all of their dreams come true. The personalized Santa Letter is written on 100% cotton fiber paper that is ivory in color and makes the reader believe that Santa Claus wrote the letter at the North Pole while reading the wish list of the child. These letters ARE NOT the computer generated letters that you can order from other places! Each letter is hand written by Santa Claus Allen and personilized by Santa himself.
Each Letter is $19.99 and is delivered by United States Postal Service. Please order by Dec 14th to ensure delivery before Christmas. To order please click the Buy Now Below. Once you complete the purchase you will be taken to a page to fill out information about your child.