Mrs. Claus Dallas
Santa Allen has known many wonderful women who portray Mrs. Claus Dallas in the Dallas, Fort Worth area, but the last few years he has worked with Darla Claus.  Santa Allen considers her the very best Mrs. Claus Dallas available in and around Dallas.  She is a professional actress, and singer.  This along with her gentle nature makes her the perfect companion to Santa Allen.
Mrs. Claus Dallas is known throughout the area for her realistic interpretation of Mrs. Claus along with her gentle nature.  Many children first warm up to her then are introduced to Santa Claus.  She can read stories, sing, perform scripted or unscripted programs and MUCH more.  Please contact Santa Allen today to see if Mrs. Claus Dallas – Darla Bicknell is available to appear at your event, with or without Santa Allen.
Mrs. Claus Dallas is the only Mrs. Claus that appears with Santa Allen!  She makes every visit special with her personality and genuine smile.  She is comfortable in front of large crowds and one on one with small children.
She is particularly good at large events.  During these events she can work the room, telling stories from the North Pole and keeping the interest of children of all ages.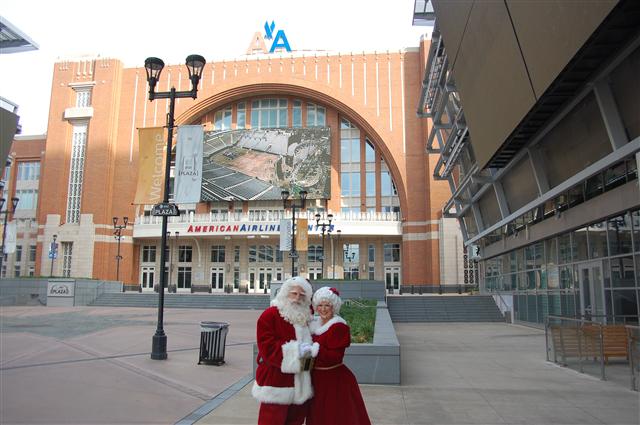 This is a picture of Santa Allen and Mrs. Claus outside of WFAA Channel 8 after appearing on Good Morning Texas (GMT).  American Airlines Center in Dallas is also in the background.
With matching outfits and personalities, you will believe you are talking with the real Santa and Mrs. Claus. 
Contact Santa Allen today, santa@santaallen.com to book your breakfast with Santa, Christmas party, or tree lighting.  Mrs. Claus is also available by herself for pancakes with Mrs. Claus Dallas, Stories and Crafts with Mrs. Claus.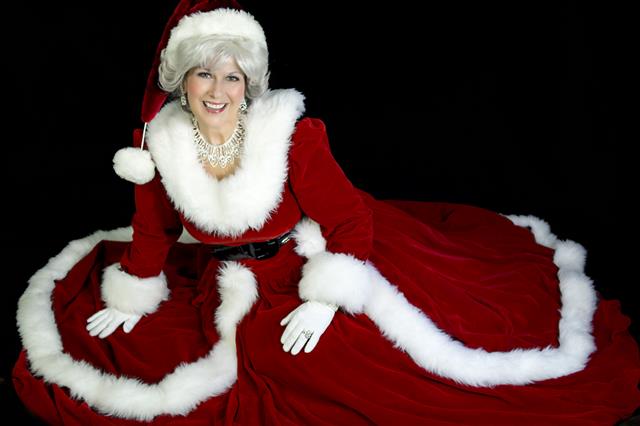 If you need to book the 'Real Mrs. Claus Dallas' this holiday season there is none better than Darla Claus.  She will travel throughout the DFW during November/December.   Mrs. Claus was recently on ABC's Shark Tank with Santa Claus.  Please call
to reserve your date and time today!